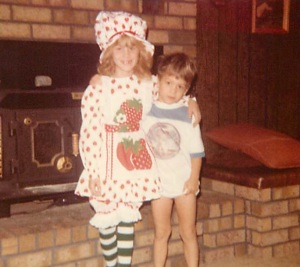 The year after I was subjected to a plastic Strawberry Shortcake costume for Halloween my mother made me one. I was over the moon. For a few years Strawberry Shortcake was my favorite character and having my very own costume made me feel special. Not only did I wear it for Halloween, but also for 'Favorite Book Character' day at school, and around the house.
Some children stick with favorite things for long periods of time while other children seem to have a new favorite every week. Parents and caregivers can encourage children's interests by talking with them, playing make-believe games, and by using recycled materials to make items related to whatever the child is loving at the moment.
I once worked with a child who loved trains- couldn't get enough of them. The child's parents had purchased several train sets and wanted to do more but also wanted to be engaged with their child so they made something like this and this as a family. An internet search will yield many ideas how to create items, but if you're having trouble coming up with ideas feel free to leave a comment and we can brainstorm together!