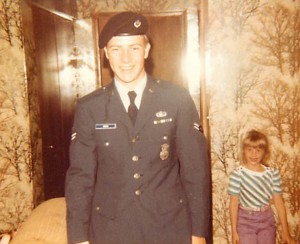 It was seven days after my birthday, eight days after Uncle Jim's birthday, and he had just come home from the Air Force for a short visit. The family gathered, coming from several states. There was always a buzz of excitement when family got together, catching up, teasing each other, laughing, eating, helping, dispensing advice. Kids were everywhere, myself included, and pictures were snapped in clusters regularly. Often, the background scenery wasn't scrutinized which may be why I became an accidental photobomber at the young age of seven. Tampering with photos seemed to be a pastime of my family, mostly the infamous 'rabbit ears'. We do it partly as a tradition and partly as a way to maintain connection- to feel included.
I think intentional photobombs are essentially a way to join in, to be connected to others. Yes, even those creepy looking ones. From infancy, our brains are wired for connections. Some develop strong and healthy connections from childhood, and some don't, but the desire to be connected to others remains.
Last night I accompanied Uncle Jim to a formal Military dinner. After the dinner we decided to loosely recreate the 31 year old picture (above). I've always felt connected to my family members, no matter how much time passes between visits, and last night was no different. Thanks, Uncle Jim!